Frequently Asked Questions
If your question isn't answered in any of the below themes, please email us at [email protected]

About the Academy, our book and Bigger Picture

What are the benefits and who is it for

Signature courses (Masterclasses)

Other courses, webinars & workshops

Visual Materials, Albums & Copyrights
What is the best way to get started with visual collaboration?
Everybody is a visual thinker and can draw ten simple lines on a piece of paper, so do you. The next step is to learn how to leverage this natural skill to strengthen your thinking, communication and collaboration. We have gathered all you need to start
here.
How do I get started in the Academy?
Why are visuals so powerful?
Research shows that visuals improve thinking, communication and collaboration. You can read more here:
Is visual collaboration possible or relevant in online sessions?
Yes! In fact we have discovered 2 very important things during the recent pandemic.
As people were forced to move work online, we saw an increased need for bringing an analogue and personal touch (pen and paper) into the digital domain. You can apply almost everything you learn here to online sessions.
Shared whiteboards, where people can collectively draw, map, cluster and visualize information together, create a very much needed focus in online settings. Our method provides a systematic approach with models and tools that work very well with online workspaces like MIRO, MURAL and Stormboard.
What are the benefits and who it is for
What are the benefits of joining Visual Collaboration Academy?
We believe that you are up for a mind shift. From being stuck with skills and tools that does not match the increased complexity we face...
...to having learnt a new language and a systematic approach that will help you to get better work done in teams in a shorter amount of time, with twice the fun.

Other benefits include:
Expert insights based on real-life challenges
A new language for collaboration and any social process
Hands-on practice to deepen understanding of tools and build new skills
Guidance on how to implement new ways of working into your workplace;
All our visual material, tools and workspaces.
After attending academy courses will I be able to design and facilitate visual collaboration sessions?
Yes! Our goal is to provide you with all the knowledge, information and toolkit you need to confidently facilitate visual collaboration sessions, both face to face and remote. With our on-demand mini-courses, you can discover how to support meetings and strategic conversations visually using simple drawings. In our
Visual Collaboration Masterclass
, we teach you how to use our method of Five Building Blocks to visually think through your next meeting and show up better prepared, reaching better results in a shorter time.
How much content and support is included in the courses, workshops and webinars?
It differs from event type. Each event will in its description have the specifications mention it the event page.
Our Visual Collaboration Masterclass comes with a virtual visual workspace where we invite you to co-create content before, during and after sessions. The sessions are lead by instructors, where you get real-time support and peer coaching. The course is packed with extras (video tutorials, case materials, e-books and visual tools) to help you learn the method and tools.
We hold webinars around specific topics and usually offer additional inspirational materials related to each session.
We deliver workshops with virtual visual workspaces, where we invite you to learn smaller pieces of visual collaboration and co-create with us.
On-demand Coursesinclude quizzes, tests and assignments that challenge participants to explore how the lesson applies to your own work, and a call-to-action.
Who is signing up for the academy?
We welcome anyone who wants to use visualization to strengthen their thinking, communication and collaboration. Our students are leaders, communicators, product managers, project managers, consultants, facilitators, designers, researchers, user experience professionals, marketers, engineers and educators and learning professionals. They come from non-profit organizations, educational institutions and corporations from various industries across the world.

What are the levels of the courses, webinars and workshops?
Can I join it if I'm a total beginner? And what if I already know a lot about visual thinking, visual facilitation and/ or visual collaboration? Our Visual Collaboration Masterclass is designed to be beneficial both to people who are just starting out, and those who are already somewhat familiar with visual collaboration and facilitation. Almost all our on-demand courses, workshops and webinars are for everyone. Some select live courses and workshops are for advanced practitioners. It is always stated in the description if so.

Do I need to be a good at drawing in order to be good at visual collaboration?
Nope! You need to have a visual mind (and that you have). And you need to be willing to use and improve your visuals skills so you can get the benefits of visual thinking and practice. In doubt? We have made this free video tutorial to convince you.
Do I need to buy the Visual Collaboration Book?
Nope! Of course, we recommend that you get it. It is the foundation for all you will meet in our academy. It's nice to have the book by your side at any of our courses, workshops and webinars.
You can go here and get the tools and introduction for free.
Do I need to be good at using technology in order to learn your method or join online courses?
Nope - to learn the method, you just need pen, paper and curiosity. This applies if you attend our on site trainings. But - to learn with us in the academy it is key that you have at least the basic understanding and experience of working remote and using the most common digital tools. If you are all new to it, we recommend taking some other courses before jumping on board ours.
What tools do I need to attend courses, webinars & workshops?
Joining all events requires that you bring curiosity, creativity and passion for learning something new.
You will also need a strong internet connection, a computer / laptop with camera, microphone, and speaker, the latest version of Zoom client and last but not least pen and paper.
Do I need to have a MURAL / MIRO account in order to participate in courses, webinars and workshops?
No. You will get guest access to the virtual whiteboard space we use to conduct our events. For some of our longer courses we recommended that you set aside time to learn the basics of the tools we use in order to get the most out of the course.
Can I access the course on a mobile device?
Yes! You can access everything on all devices. However, for an optimal learning experience in our live events, we recommend accessing the course on a desktop or laptop computer. For those who can, having two screens is helpful to be able to have one screen for camera and peer view, and the other for full focus on the shared whiteboard space. The screen for camera and sound can be a smartphone or tablet. We recommend using your biggest screen to view the shared whiteboard space in your browser.
What languages are the courses, webinars and workshops held in?
Everything is for the moment in English although we also offer specific sessions in Danish. We are working to build capacity to offer sessions in other languages. You will need to be able to work and write in English to get the most out of the academy. Send us an email if you are interested in content in other languages: academy [at] biggerpicture.dk.
I am having problems with my audio / video - why is it not working?
We recommend to check your internet connection, reset your internet connection if necessary, clear your cache, and update your browser or try another browser. Additionally, check your speaker/headphone connection and your audio system preferences.
How do I update my email address?
From your dashboard (once you're signed in), click "Me", in the dropdown menu choose "My account" and you'll be taken to an account management page. Enter your current password, the new email address that you would like associated with your account. You will then use this new email address for future log ins.
How do I update my credit card?
From your dashboard (once you're signed in), click "Me", in the dropdown menu choose "My account" and you'll be taken to an account management page. Enter the new credit card details that should be associated with your account and click Update Credit Card. This info will be used for subscription renewals in the future.
How do I change my password?
From your dashboard (once you're signed in), click "Me", in the dropdown menu choose "My account" and you'll be taken to an account management page, where you can change password: enter your current password, and enter/confirm your new password. Click Change Password. You will then use this new password for future log ins.
I forgot my password. How do I retrieve it?
There is a link on all sign-in forms to help you recover your password. Just choose "Sign In" in the
top right corner of the browser, click the "forgot password?" button, and follow the on-screen instructions. You will then receive an email with further instructions to reset your password.
How can I stay updated about new offerings?
As a user you will get updates automatically. If you are not yet a user, simply subscribe to our newsletter and follow us on social media.
Signature courses (Masterclasses)
How much time do I need to take the on demand course?
Our signature courses on demand is totally self-paced. So it depends on how fast you want to go through the modules and how much time you need to assimilate new knowledge. In theory, you could complete the course in two days. We recommend that you pace yourself over several days - even a month. Each module prepares you for the next and the final module brings together all the previous moduls into one final whole.
We highly recommend that you explore additional resources included in the course, or in the academy, like free on demand video tutorials, the downloadable exercise templates and the freestyle assignments included. They help you apply what you've learned.
How much time do I need to take the live course?
The courses is made up for 7 live sessions of 3 hours and 15 minutes each. The sessions typically happen once a week over a period of 7 to 9 weeks. You need to have an additional 3 hours before each session to solve assignments. In total the course requires between 40 and 50 hours of your time. Some courses are delivered as intense one week sprints. After each session there are assignments that you need to plan time for. It will take between two to four hours to follow up and prepare for the next session.
Do I need to attend all live sessions?
Yes! If you want the certificate. Even if you just miss one session, you may have a challenge in catching up and be ready for the next assignment. Furthermore we put extra emphasis on running small teams, where the team learns together from each other. Missing out a session is a loss for you, and for the rest of the team.
If I register today, how quickly can I access the course?
You will get instant access to the course room the minute you purchase the course. Your unique login information will be emailed to you automatically. The moment you have signed up, you get access to a space with material and inspiration you can review and work with before the live sessions.
Do I need any preparation to start the course?
Yes. We recommend that you take the time to look at the course introduction material and pre-assignment before the live sessions. If you do not have the book, we strongly recommend that you get the it and have a chance to look at it before start. It is not necessary to have the book for taking the course.
I'm well versed with the theory. Do the courses offer practical knowledge?
The course is very practical, engaging and hands on. It briefly introduces the theory in the explainer videos and summarizes it in the key learning points. The live sessions focuses on applying the knowledge in practice through real-time work by the team. In between sessions each participant has a workspace where assignments can be worked on and handed in.
What is the rhythm of the course?
The course is designed in a manner to encourage the whole team to learn together, moving at a certain pace from week to week, while providing enough flexibility within each week for the participants to review the content at their own convenience and prepare their assignments.
No. We do not have exams. In our Signature Courses (both live and on demand) you have to hand in assignments in order to complete the course. In our live signature course, 80% presence is needed for getting the certificate of completion.
What do I receive upon completion?
Upon successfully completing our Visual Collaboration Signature Course (both live and on demand version) with all its requirements in time, you will receive an official Certificate of Completion from Visual Collaboration Academy, which you can also share with your network on LinkedIn.
For all other on-demand courses and our webinars there are no certificate.
For our workshops you receive a certificate of participation.
Do I have a chance to interact with the instructors?
Yes, of course. We purposefully limit class sizes to ensure plenty of instructor to participant time. Each participant gets personal feedback - both verbal and text. In addition, instructors can follow and comment on your work in home assignments made in the virtual platform.
In the live courses will I have a chance to interact with other participants?
Yes, certainly. The learning experience is designed to encourage interaction, before, during and after sessions. Participants are able to interact with each other through discussion forums and the virtual whiteboard workspace.
Other courses, webinars & workshops
What is the difference between courses, webinars, workshops and albums?
Live courses takes place in real time. We use Zoom and a virtual whiteboard space to conduct the courses. You get to meet other participants, work individually and in groups. Courses have a maximum of 16 participants.
On Demand courses are video courses, you can take at your own pace. The modules have video material, e-books, tools, quizzes and assignments. They are supported by instructors via email.
Workshops are two to four hour LIVE sessions with 10 to 24 participants. A workshop has a Visual Collaboration relevant focus (fx. a tool or a challenge).
Webinars are short sessions for larger audiences where participants get to experience and learn new content.
Resources are all the materials and tools we have and continue to develop: icons, templates, playbooks and workspaces for all kinds of subjects and situations.
Albums are collections digital materials (icons, templates, playbooks and workspaces) being released on a monthly basis. As a subscriber you get access to a new albums every month, adding to a growing visual content catalogue you know how to draw and use. Albums are only available for subscribers.
I've read the book. Do I still need your courses, webinars and workshops?
It depends. You will find our courses, workshops and webinars useful whether or not you have read the book. If you have read the book already, they will add to your practical knowledge of the Five Building Blocks of Visual Collaboration. If you haven't read the book, they will serve as an ideal introduction to method, tools and skills of visual collaboration and by reading the book chapters you build on to this.
A big part of the live signature course is learning with peers. With your team you will learn different ways to apply the method and build a life long network of supporters. In the course you will find tests, quizzes and downloadable exercise templates which will help you check your knowledge and implement what you've learned from the book or on the course.
Who delivers the courses, workshops and webinars?
Our faculty of instructors deliver the live sessions and on demand courses. Our Visual Collaboration Signature courses is designed and presented by the authors, Loa Baastrup & Ole Qvist-Sørensen. You can always check out who we have as core instructors and guest instructors here.
For how long do I have access to the material of a course, webinar or workshop?
You will have one year to access the materiale of the event you have participated in. This will give you plenty of time to take full advantage of any content you experience.
Is now the right time to be investing in my visual collaboration skills?
No doubt about it! We know...we are biased. So here are our reasons. The world is becoming more connected and more complex. We believe there is a need for new skills and tools to tackle this reality. As we continue to upgrade our hardware and software to new versions, there seems to be a need to upgrade our "social software". Investing in this learning will come back tenfold as you will excel in visual collaboration.
On demand courses - can I stop the course and resume it at a later point?
Yes! You can go at your own pace. You can stop the course at any time and pick it up again where you left off without losing the progress you've made. In fact, we recommend pacing yourself through the course over several days to assimilate new concepts, especially if you are new to visual collaboration. We also recommend this route as each new module builds on what you learned in previous modules.
Are there any other paces where one can get this kind of training?
We are super proud that we now run our signature course for large organizations and for years have partnered with universities where students have had access to our course content. Outside these settings, it is only at Visual Collaboration Academy that our signature course is available. Regarding the content of our other courses, workshops and webinars, you may other places be able to get elements that look the same, but what you get with us is, a bit like LEGO, blocks that fit together in a larger system.
If I register today, how quickly can I access the material of courses, webinars and workshops?
If I register today, how quickly can I access the course?
Do I need any preparation to start?
No not really. There are plenty of starter material
here
, and once you get the hang of it, you can add more depending on your needs and interest. You don't need prior knowledge of visual collaboration method, skills and tools. While we always recommend reading the book, for a more in-depth understanding of the concepts, reading the books is not necessary for joining what we offer in the academy.
How do I become a Visual Collaboration Alumni or member of the Visual Collaborators Club?
Everyone who has taken our Visual Collaboration Masterclass LIVE course becomes a member of our Visual Collaboartors Club. You can also get access to the Club if you subscribe to one of our plans. More details are coming soon.

Do you have online communities I can participate in?
Yes. We have chosen to use LinkedIN groups as meeting space for our Academy. There is one for each of our communities.
Do you offer trial periods?
Nope. You will find loads of free stuff, plenty to get sense of what this academy is about. We suggest you start with a little bit of everything. This will help you make up your ind if you want more.
What are the payment options?
You can purchase courses, webinars and workshops with any of the major credit or debit cards. We use Stripe for processing payments. You can learn more about Stripe here. You have two options for payment.
A one-time payment – no recurring or renewal payments will follow.

Subscribing to one of our plans.
Are you able to provide invoices for purchases?
At this time, we are not able to provide invoices for individuals. Only in the case of larger groups from the same organization we can provide an invoice.
We understand that it may not be possible for employees to purchase the course individually with their personal credit cards. We're happy to help simplify the process on your end. Based on the number of your team members, we'll issue your company an invoice and provide you with a link to a one-time payment. Once the invoice is paid, we'll enroll your team members into the course. Please contact us at
[email protected]
to look at your needs and the different options we have.
Can I pass on a ticket to another person, get a refund or change tickets?
The course, webinar or workshop I want to attend is sold out. What should I do?
Send us an email and we'll be happy to put you on the waiting list. Sometimes we can provide a spot at short notice. Alternatively, you can gather a group of at 8 or more participants and get a customized package. Please also review our
Terms & Conditions
.
What do I actually get when I buy?
Access to all the course videos, that takes you step by step through the elements of the course in question. You also get access to all the bonus materials, including the visual tools we use and different worksheets that help you improve your skills. And of course checklists, toolkits, articles and access our different community groups.
You offer tiered pricing? Does this apply to me?
We offer tiered prices and scholarships in an effort to bring people from as many backgrounds, regions and professions as possible into our academy.
This means that if you are in education, from a non governmental organization or just super motivate and need support, we will try to find a pricing model that works for you. You can read more here.
I want a group from my company to learn this - do you offer a bulk discount?
Yes – We believe teams stand a even better chance of implementing change with new content. If you are 5 or more that wants to sign up together, send us an email and we can share more about our special team pricing and certification.
Will my monthly subscription end after one month, or my yearly subscription end after one year?
No, it will automatically renew every month or year unless you cancel it manually.

How do I cancel my subscription?
If you paid with a credit card, just navigate to the dashboard of your account, go to the billing page and click the cancel button.
Visual Materials, Albums & Copyrights
What is the difference between an icon, a template, a workspace, a playbook and an album?
An icon is a simple illustration for a word or a category of words. It can be both a analogue and digital product. We always ask what words you need an icon for. Icons are the most basic building blocks for a visual language. Putting icons together can convey more complex concepts and processes.
A template is a tool (analogue or digital) that can help convey a message and structure a dialogue. Templates come in many different forms. They often have a selection of key questions and icons or metaphors making a shared whole.
A workspace is an online virtual workspace in for example MURAL and MIRO, where we have designed the space for a specific purpose with specific templates and icons that form a whole and can be used to drive forward a specific kind of workshop. You can see an example here.
A playbook is a "recipe" for how to prepare and run a specific workshop - typically in a face to face setting.
An album is a collection of icons, templates, playbooks and workspaces in a given theme. Albums include folders with PNG files and online workspaces where all album items are organized in easy to use visual overviews. An album also includes mini video tutorials of how to draw the icons and templates, how to use the playbook and how to run a workshop using a workspace. We regularly release albums. See albums here.
How do I get access to icons, templates, playbooks, workspaces and albums?
As a member of our Academy you get access to samples of every album we release. If you subscribe you get access to more. How much depends on your plan. You can read more about the different subscription plans
here
.
You have a specific visual style. Do I need to learn this or can I develop my own?
We hope that our style and more importantly the principles behind this style will inspire you to create your own. We have spent years developing a style that is so simple to anyone can draw it, with as few strokes as possible. When we started our visual journey in 1996 we were inspired and influenced by the thinking and work of David Sibbet and The Grove. Since we have continued to expand and grow our vocabulary. and how to use it.
Our visuals serve one purpose: To help better facilitate collaboration in teams.
Can I find your material or similar online for free?
In theory you might. There are oceans of icons in different online databases, and an abundance of illustrations, templates and tools online. Our decades of client work in the field has ll sectors. Through this work we have created a substantial content catalogue of icons, templates, playbooks and workspaces in a coherent style and in a system that makes all work together. It is this catalogue of work and how to develop your own that you as member of our academy get access and license to use.
What is Visual Collaboration Academy Copy Right policy?
As we are inspired by frontrunners like David Sibbet and the Grove, Matt and Gail Taylor, Dave Gray and Xplane, Dan Roam, Bikablo, Alex Osterwalder and Strategyzer and Nancy Duarte, we hope to further inspire others.
Like those before us and in our field, we hope too bring to the table an inspiring new and cohesive method that helps more people in a systematic way join the visual collaboration tribe and its accelerering movement.


We have looked into the best way for us to on the one hand protect our method, tools and system, in order to ensure its quality, and on the other hand set it free to inspire others.
If you are inspired by our work, please pass it forward and do let us know.
We have a substantial content catalogue (icons, templates, playbooks and workspaces) that you can learn to drawn by hand, or use in digital formats.
If I like the visuals I find here how may I use them?
Can I deliver training in your method and tools?
Anyone can offer training in material they are inspired by.
Our mission is to accelerate the use of visuals to all sectors of society and in all regions of the world.
We'd be more than happy to help you - should you find it of such value - to offer training in the methods in our book.
It is in our interest both to avoid competition with our own offerings, and to secure a certain level of quality.
Should you want to gain access to all our materials, platform and get a trainer certification, please reach out to hear more about becoming an affiliate or partner.

Please read about our Terms & Conditions and different Licenses.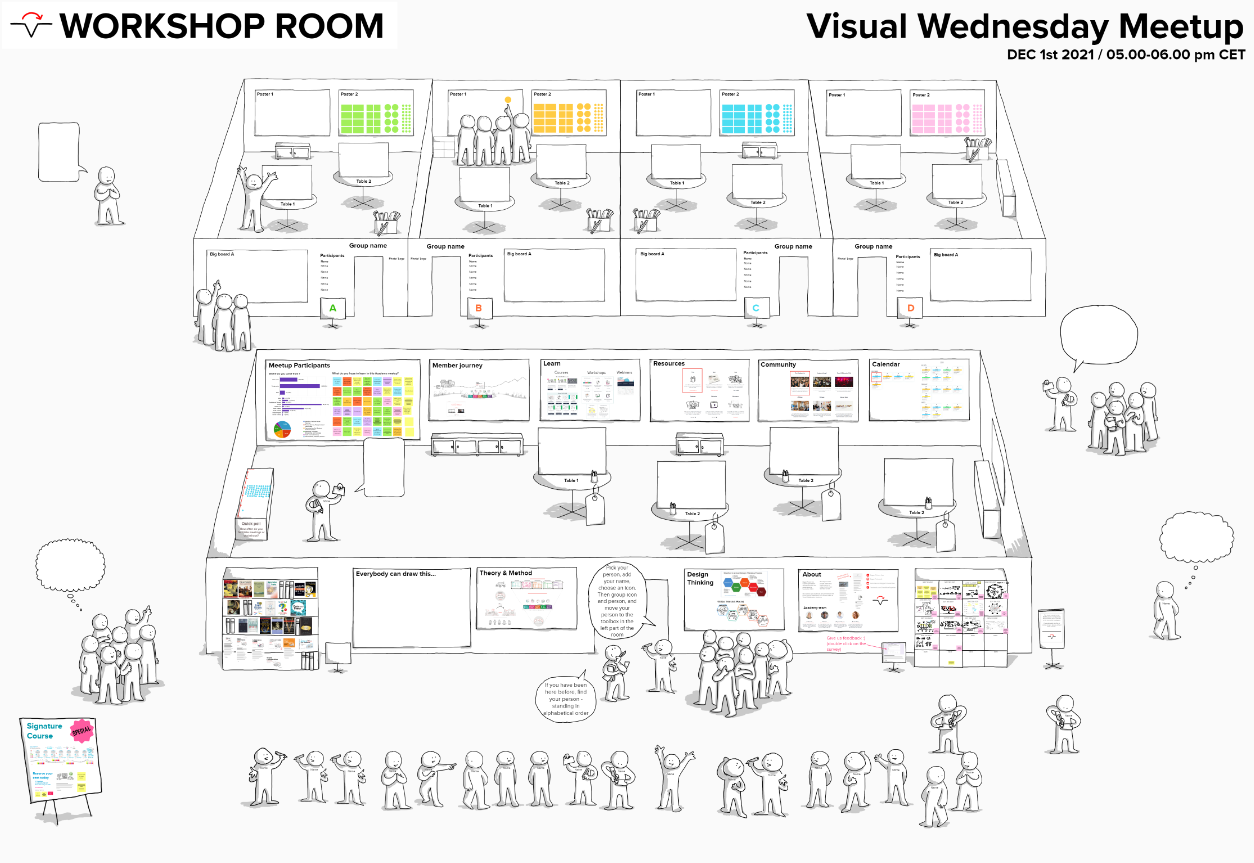 keynote
Learn how visuals can strengthen your
thinking, communication, and collaboration