Members only
VISUAL COLLABORATORS
CLUB
Access monthly Meetups, resources and more
We are a group of professionals who meet every month, share work, give and get feedback, and benefit from access to all academy resources and any needed support from academy instructors.

Free - by invitation only
Meetup Calendar
Meetups are live and not recorded
Meeting Space
This is the virtual whiteboard we use when we meet. As you enter, we ask you to create your own character, pick a spot where you can add your work. It's open 24/7 so stay and look around.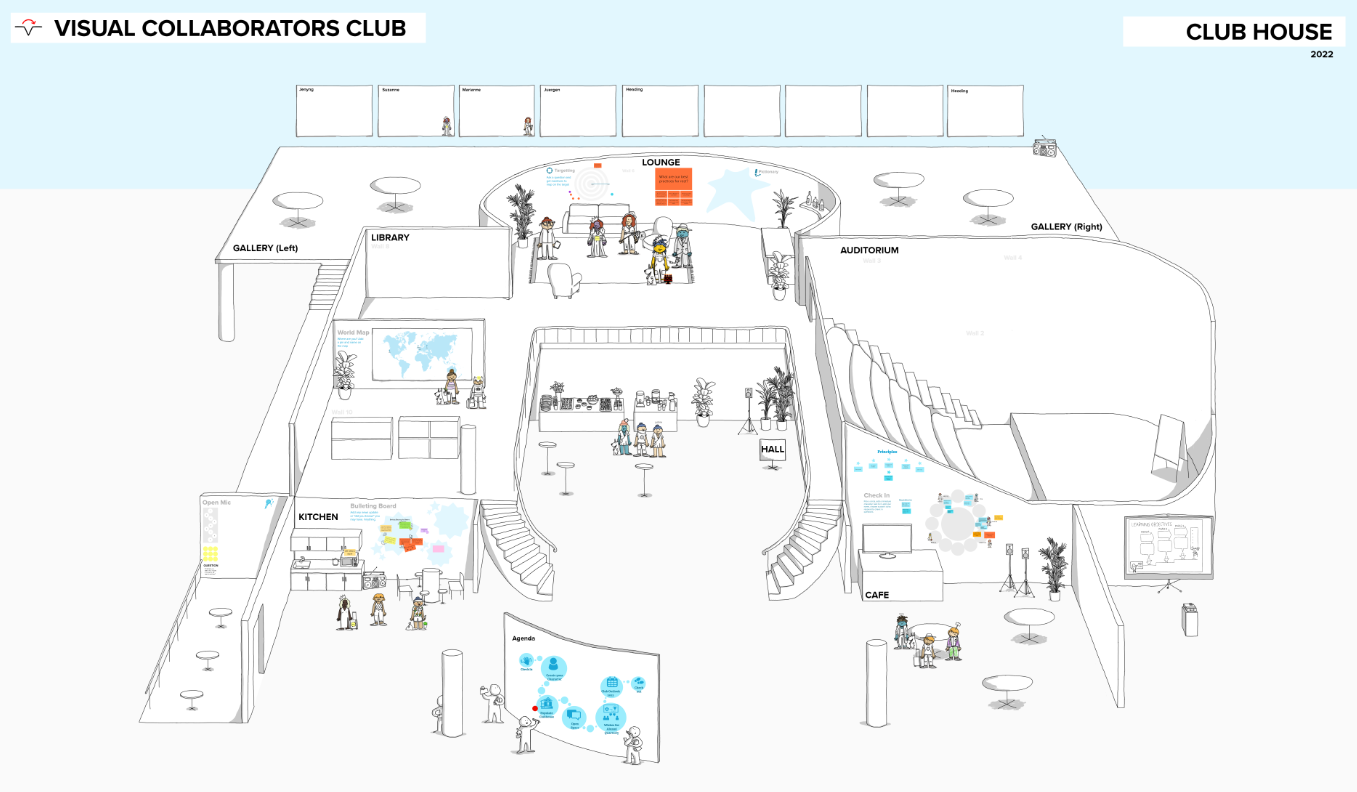 What you need to attend
Two Devices
You can attend the Meetup with one device, but we recommend two as this allows everyone to see each other AND collaborate in our Clubhouse.
Zoom
Before each Meetup you can find Zoom details and Calendar invite with needed ID and password. You can sign in and get ready 10 min before each session.
MURAL
We use MURAL or MIRO host the Meetup. No prior experience is needed, but we do recommend taking some of their free online tutorials before.
Time & Presence
Each Meetup is 90 minutes. We encourage everyone to be on and stay for the duration of the Meetup. This strengthens our shared sense of flow and community.
As with the Visual Collaboration Course, our book Visual Collaboration is at the core of the Club.
Peer and instructor feedback & coaching
Grow you skills with the help of a trusted network of professionals eager to see you take the next step
Unlimited access to resources
Get the best of what the academy has to offer (icons, templates, tools, on-demand and live courses and webinars)
Specials and rebates on select workshops
Be the first to join new initiatives, get special deals on academy launches and use new resources before anyone else.
Academy learning and support
Continue the learning with updates and support when you need it
Said about our courses
It's not just an opportunity to learn some valuable tools and skills, which you will do. You learn the underlying theory and a systemic approach to collaboration by creating visual learning arenas.


Associate Professor of Practice, Vanderbilt University
I am now using this method for preparing and running workshops and meetings about learning, sales, project set up, idea-creation and process definition.


Juergen Kleinsteuber
Head of Strategic-, and Performance Programs
SAP - Germany
As a leader of an organization that supports grass roots projects and leadership, I want to make sure that all our community leaders get a chance to really dig deep and see the benefits of this kind of training and work. Its an issue of equity: all people should have access to practicing, thinking and designing in this new group way.


Robin Cline
Chicago Peace Fellow, Assistant Director of Neighbor Space
keynote
Learn how visuals can strengthen your
thinking, communication, and collaboration