In need of a more visual way of working?
If you want to run meetings, projects and processes that are more engaging, efficient and impactful, this book is for you. By using visual tools and techniques, including simple drawings that a<nyone can learn, Visual Collaboration can support any type of organization in managing complex projects and encouraging innovation.
Winner at the Independent Press Awards for best design.
Bronze medal winner at the Axiom Business Book Awards.
Rated ☆☆☆☆☆ by leading Danish newspaper Børsen.
Tools
The Five Building Blocks of Visual Collaboration is a coherent method presented in our book, which will improve your visual skills. Each building block comes with a supporting visual tool to download, print and use freely. Try the Skills Wheel to map your visual collaboration tools competences, and the Agenda and Strategy tools to achieve better results faster.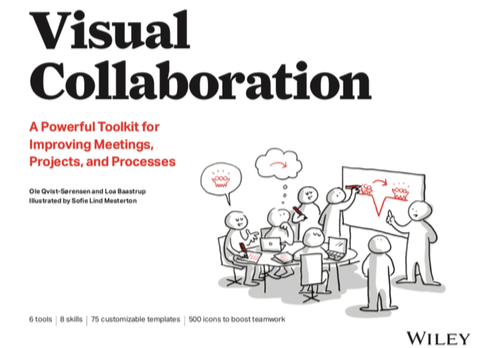 Chapter 1:
IntroduCtion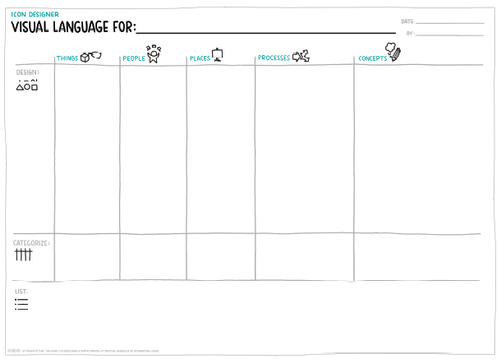 Icon
Designer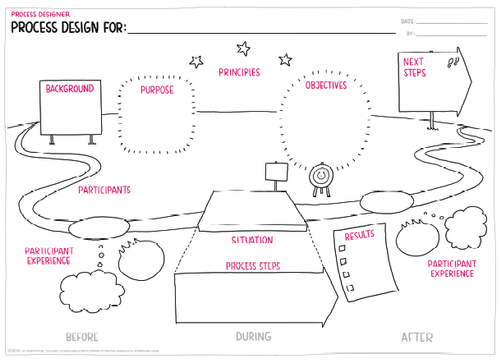 Process Designer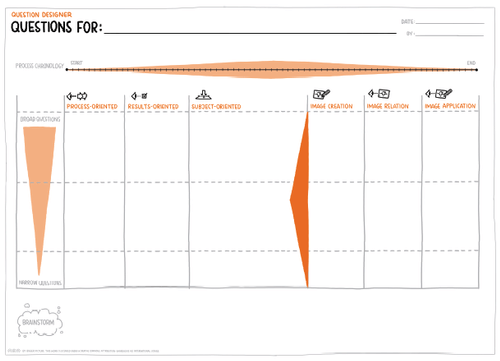 Question Designer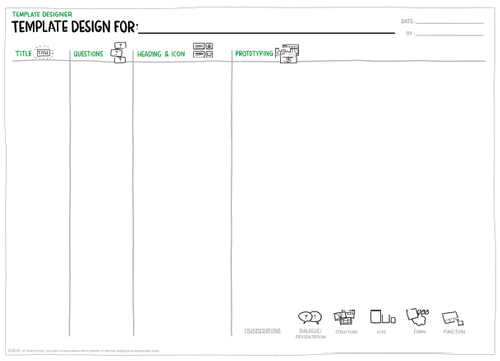 Template Designer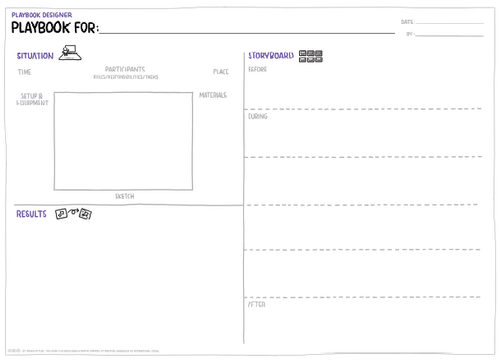 Playbook Designer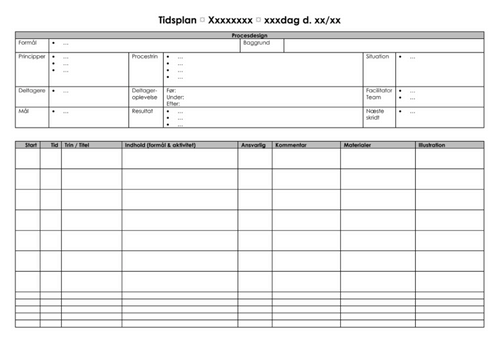 SCHEDULE
TEMPLATE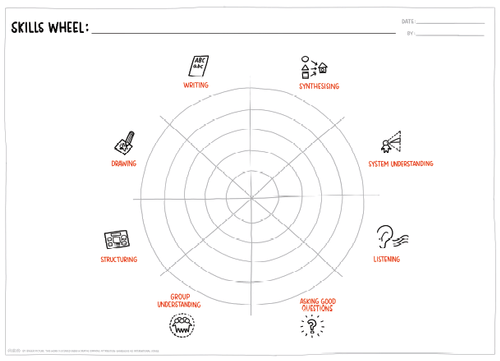 Skiils
Wheel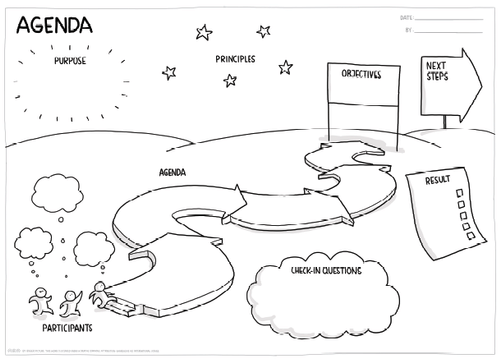 VISUAL
AGENDA
VISUAL
STRATEGY
Download free tools in one of these languages
\Learnworlds\Codeneurons\Pages\ZoneRenderers\CourseCards
So far it is published by these fine publishers in 7 languages...
You can also find the book in these online bookstores...
Who is it for?
Visual Collaboration offers leaders, managers and educators a visual way to communicate and collaborate that is smart and effective. The book is for everybody. In particular for people working in these areas:
Innovation
Prototyping is a classic disciplin if your work is about turning the world upside down. If your role is to come up with new innovative ideas that create value, sketching those early prototypes allows ideas to gain momentum and turn into solid concepts.

Leadership
Leadership comes in many forms. Visual Collaboration provides new perspectives and tools for leading in an authentic and dynamic way with pen and paper.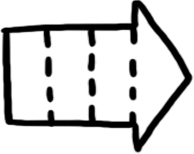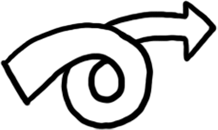 Learning
Visual Collaboration introduces you to a theoretical foundation for working visually and to the Visual Learning Arena. It offers visuals tools and techniques you can use when you design and deliver learning experiences.

Strategy & Change
If you need to to present a strategy, implement a plan or launch a change process, Visual Collaboration offers a catalogue of powerful questions and visual tools that will help you towards a great and engaging process.
Nancy Duarte
CEO at Duarte.com and best-selling author Slideology
This book gives you the building blocks for meetings, processes or projects. It works as a new language for collaboration. In a world where we need tools and approaches to tackle our complex world this book can help you come up with solutions that work.
Peter Coughlan
Ph.D., Saltus Consulting, Founder of IDEO's Transformation by Design Practice
Visual Collaboration provides readers with a brilliant toolset and roadmap (all presented in an extremely accessible visual format) for groups working together visually.
Patrick van der Pijl
Producer of Business Model Generation and Author of Design a Better Business
This book represents the best of what the field of visual facilitation has to offer. The book is clear, high quality, very well structured, very concrete, and practical. It is full of "ah-ha's" not only for anyone wanting to enter the world of working visually, but also for those of us who has been in the field for many year
Donato Carparelli
Head Global Product Innovation, Schindler Elevator Ltd
Visual Collaboration is an inspiring guide for anyone who is interested in a more visual approach to organizing and hosting meetings and workshops. The book walks the reader step-by-step from discovering a new visual language to enabling others to work more visually. As a reader one doesn't only find helpful hands-on tips but also inspirational templates which can be easily customized for any kind of meeting and workshop
Lars Kolind
Former CEO of Oticon, Board Member, Entrepreneur and Author of Unboss
This book is not about drawing. It is about how I can significantly improve my work as a leader, advisor and facilitator. Before we discussed and discussed. Now we co-create and build on each other's ideas. And even more important: when we have reached and drawn our conclusion, it is infinitely easier to share the drawing with our colleagues outside our team. I dare say: We create 50% more value per hour's work than before. Brilliant!
Olga Svyrydenko
Business Strategy Lead GlobalTraining Partner Program Microsoft
In my current role at Microsoft I don't have the luxury of working with people face to face, so we do a lot of joint visualizations on digital whiteboards while connecting team members from all parts of the world. Visual Collaboration provided an extremely helpful method for clarifying goals, working out joint plans and shared responsibilities, and avoiding cultural or language barriers in our teams
Bliss Browne
President and FounderImagine Chicago
Visual tools work well for managing meetings, programs, and processes in a way that promotes engagement, ownership, and dialogue. What an excellent resource for complex organizations and anyone who cares about activating the imagination and doing social change work well
Christoph Eisenhardt,
R&D Strategy & Change, Roche Diabetes Care GmbH
My organization invited the authors to teach us visual collaboration and to test whether a common visual language could enhance cross-departmental collaboration while creating product innovations. We are very pleased with the results. The book is a very successful and practical introduction to this more visual way of working
Tom Cummings
Executive Board and Senior Management Adviser
In a world of creative destruction and emergent creation, all organizations face the challenge of orienting and imagining the shared future we all want and need. Visualizing and sharing perspectives are critical to achieving this goal. This work will be a classic 'go to' source for anyone aspiring to develop shared engagement, visual insight, competence, and tools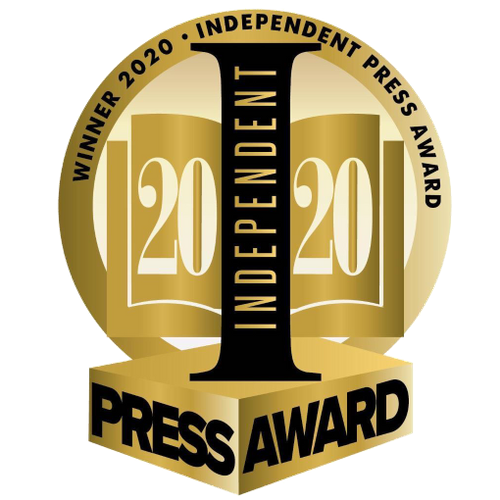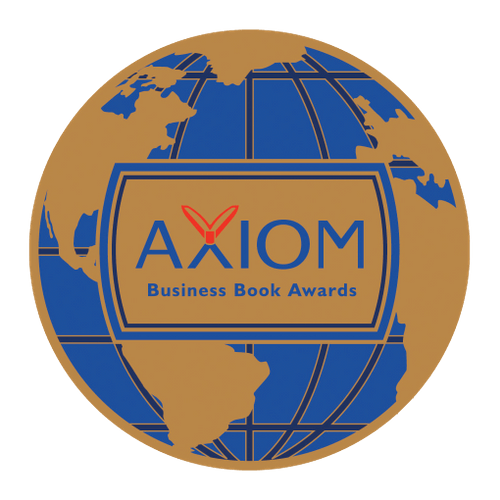 The method The Five Building Blocks of Visual Collaboration™ gives you basic tools and techniques you can use at once. Each building block guides you step by step towards mastering core aspects of visual collaboration. You can start working with the building block that is most relevant for you, or you can work with all five building blocks at once. The Five Building Blocks offer templates, models, questions lists and training guides that help both the beginner and the expert in developing visual skills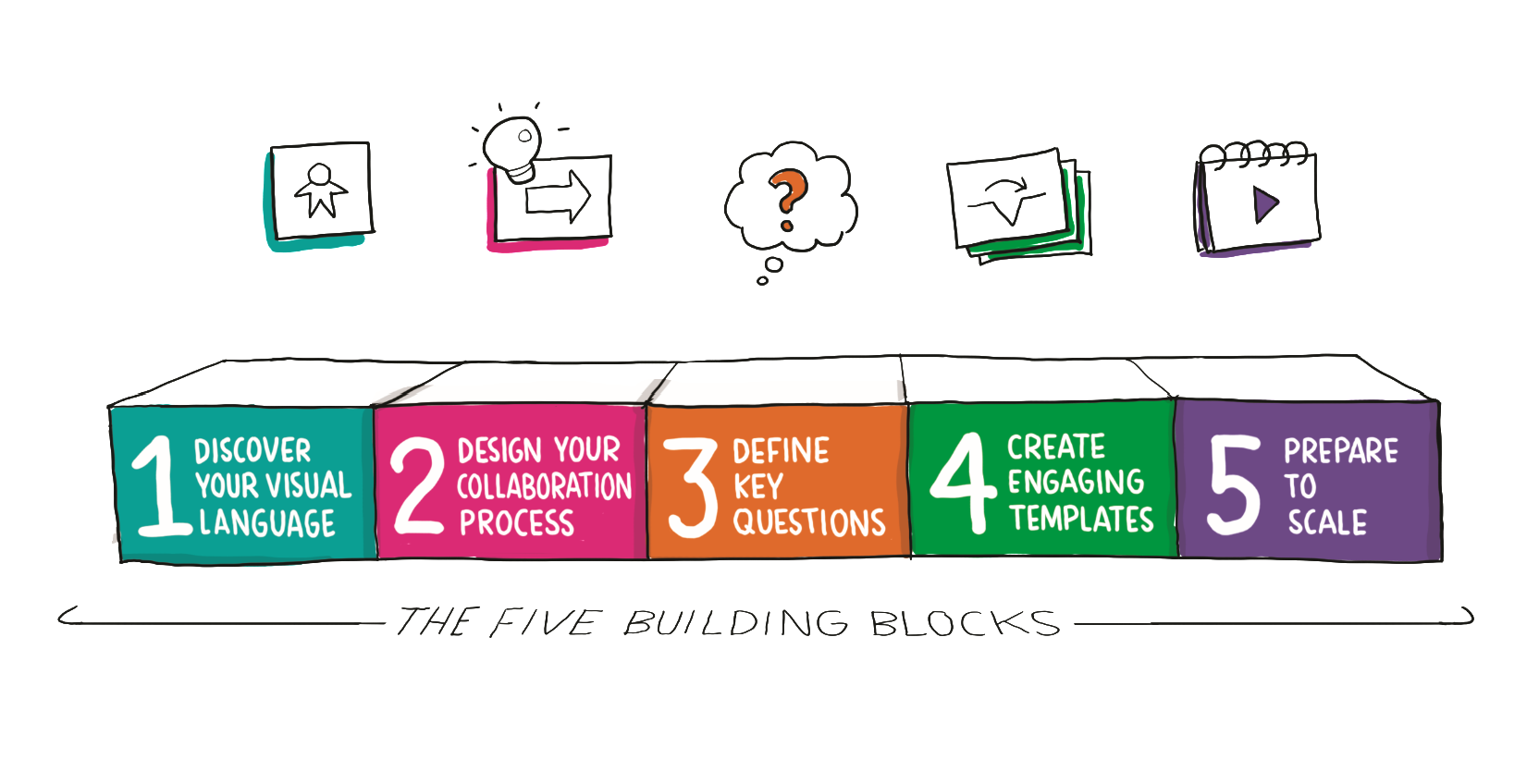 Authors
The authors of the book are a part of Bigger Picture, a consulting agency specializing in strategy communication and visual facilitation. Since 2003 they have been amongst the leaders in the field of visual facilitation. They partner with organizations such as IKEA, A.P. Møller – Mærsk, LEGO, the United Nations and BBC to create clarity, engagement and agility
Loa Baastrup
Author, visual facilitator, trainer
Loa designs and facilitates scale strategy processes and has trained more than 1000 people in visual facilitation. Loa is co-author Visual Collaboration.
Ole Qvist-Sørensen
Author, visual facilitator, trainer
Ole has more than 15 years of international experience in facilitating and assisting leadership teams in cultivating a more visual way of working. He is the co-author of Visual Collaboration.‍
Sofie Lind Mesterton
Sofie is an illustrator with a background in the Royal Danish School of Design. She uses visuals to turn complexity into visual clarity. Sofie is the co-illustrator of Visual Collaboration.
Join Visual Collaboration Academy for free and get access to the tools of the book, free webinars, on-demand courses and much more.
keynote
Learn how visuals can strengthen your
thinking, communication, and collaboration