Visual Teachers + Visual Students = Exponential Learning
LIVE Workshop
Learn to create clarity and engagement in any learning experience. Face to face or remote [For educators - if corporate or independent, reach out]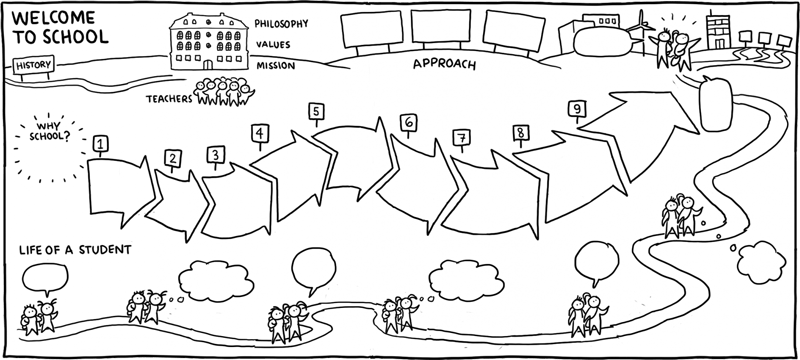 How do you make your remote learning experiences stick?
All educators are designers and architects of learning experiences. To think through and visually display the journey you invite your students on is impactful. To engage students in co-creating their own journey is even more powerful.

In this highly interactive workshop we will give you a theoretical background for designing visuals for exponential learning, and we will step by step guide you through a method with which you can create your own visual overviews and canvases. Come prepared to be surprised of how easy it can be – and yet how impactful it is.
I like the well prepared learning experience and the welcoming atmosphere. For me it was a good learning experience because I can learn, co-create and integrate insights in the same workshop.
Gerti Kohlruss
I am surprised how quickly the four hours went. Good pacing and alternating between groups, report out and presentations.
Philip Bakelaar
Great virtual space setup. Excellent communication in advance. Clear and effective facilitation of learning process. Well designed learning journey.
Chelsea Lei
Workshop Agenda
00.00-00.55
Introduction
Welcome to the workshop space, purpose, process, and participants
Introducing the Visual Teachers, Visual Students & Exponential Learning
01.00-01.50
Theory & Method
Understand the foundation for visual collaboration
Learn to work visually, creating clarity & secure student and class engagement.
02.00-03.00
Icons & Templates
Creating a visual language for learning.
Designing visual overviews and templates for any remote learning process
Group work around chosen topic
03.10-04.00
Application
Debrief & exploring applications
A connected device
You can attend the workshop from any device with a stable connection
Zoom
You login to the workshop and use a password protected Zoom room
Curiosity
Show up with a young learners mind (a notepad and a pen would be good too)
Learning to sketch
You will walk away having drawn several icons and a template useful for a hosting a strategic dialogue
Visual workshop overview
You get a PDF with a visualization of the workshop content and co-created output
Education icons and templates
You get our icon and template set for educations ready to use in face to face and remote learning situations
Ole Qvist-Sørensen
Ole Qvist-Sørensen, MA, is a Founder and Partner at Bigger Picture, a consulting firm specializing in strategy communication and visual facilitation. He is co-author of Visual Collaboration.
Loa Baastrup
Loa Baastrup is CEO of Bigger Picture delivering strategic communication and facilitation services. She is co-author of Visual Collaboration
We look forward to see you
keynote
Learn how visuals can strengthen your
thinking, communication, and collaboration