[301-02] LIVE ONLINE COURSE
Visual Facilitator
Learn to design and facilitate purpose-driven, impactful meetings, and workshops. Strengthen collaboration and engagement to achieve clarity and shared outcomes.


3½ hours live online course
Highly interactive
Instant feedback
Immediate implementation
6-12 participants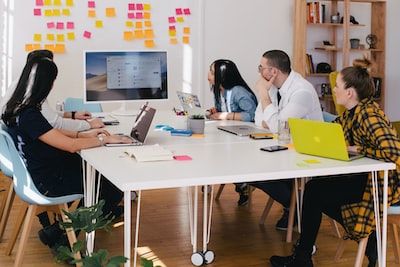 What you need to attend
Equipment
You need a camera, a good microphone and preferably two screens. We also recommend using mouse.
Teams
We run the courses using Teams. Before each session you receive an invite with ID and password.
Miro
We use the digital whiteboard Miro in all our courses. If you don't have, we provide guest access.
Pen & Paper
We often use simple sketching to prototype and communicate ideas. No prior skills required.
Time
Set aside time to prepare, get the tech working, and arrive. Courses often have pre-assignments.
What's included in the price?
Before
Questionaire
Miro self test

Access to "Learning Arena" Miro board



During
3½ hours engaging online session
Maximum 12 participants
2 trainers
Course material (e-book)
Course templates in Miro
After
Continued access to Academy & "Learning Arena" Miro board
Course certificate
Possibility of purchase of additional individual and team coaching

30 minutes
Introduction
Welcome to a new way of working
60 minutes
Sprint 1
Learn to visualize processes
60 minutes
Sprint 2
Learn to visually think through your next moment of impact.
60 minutes
Application
Explore how a visual process design can create value in your next project, meeting, and workshop
keynote
Learn how visuals can strengthen your
thinking, communication, and collaboration